Still in its conceptual stages, this project, straight from the brain of Chiyu Chen, a student at the Royal College of Art in London, is wildly ambitious.  Chen wants to develop a system that would store the kinetic energy produced when using a free bicycle service, and then use that energy to electrically power a hybrid public transport system once the bike returns to its terminal. Storing the maximum power in "ultra-capacitors" and obviously trying to lose the least, his system recovers the energy produced by the cyclist while driving and braking.
But his concept does not stop there: cyclists are rewarded for their hard work. A screen located on the handlebar indicates the amount of energy generated during use. Upon arrival, you can insert your card (on a RFID chip) in the terminal and it credits you with as many points as watts issued. With that, you get the opportunity to use, free of charge, the bus service that you helped to run.
Popsci, a magazine investigating the concept, remains somewhat sceptical about the viability of such a system after working out several quick calculations: in riding a bike around 10 kg and calculating an average speed of 10 meters per second, it appears that the amount of kinetic energy produced in one second would be 500 Joules.
Not bad. But we must also consider that the capacitors have to capture 100% of the energy without loss, which currently is not possible, particularly because of the heat. Finally, the energy produced would represent one hundredth of the combustion of a conventional gasoline bus … Suffice to say, for the system to really work these bikes would have to be used on a massive scale.
The concept is, in any case, undeniably ingenious and visionary. Picture a city with a dense network of this system. Cyclists powering public transport. Now that's a true example of participatory democracy …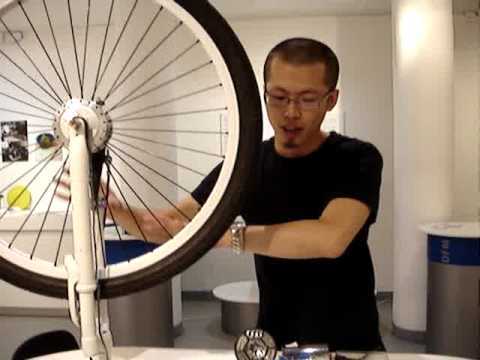 Bio express

Longstanding mountain biker and urban cyclist Xavier publishes Weelz.fr, the first web magazine about urban biking.