Discreet loos popping out of the ground at nightfall
par Elsa Sidawy | 06.24.10
After pigeons, the problem of urine pouring out on public highways is the other great plague of public health in cities, particularly in the ones that have developed nightlife. The problem might seem incidental or even insignificant if it did not have a real impact both socially speaking and in terms of image for city councils.
The Dutch company Urilift developed an original type of urinal partly responding to this problem. These retractable public toilets remain hidden during the day, simply leaving a mark perfectly similar to a manhole cover, and come up at nightfall. They can therefore be installed anywhere, for their presence do not disturb surrounding shops during the day and they become really useful when bars and restaurants fill up in the evening.
Various types of toilets adapted to each situation
The product range includes various toilets models, like UriLady, which has closing doors and is, as its name suggests, adapted to women. But Urilift's flagship products are those eponymous toilets popping out of the ground in exactly one minute to welcome party-men who need to relieve themselves during the evening. Utterly made in stainless steel, they shelter between one and three urinals. For security reasons "it is always a person who controls the popping up of urinals, generally around 9 p.m., and their closing at 6 a.m.," Wim Hermans, head of international sales at Urilift, explains. It is usually a city employee who operates the remote control "but the city can leave that responsibility to a bar owner or to the people cleaning the streets…" Wim Hermans adds.
An investment made beneficial by the decrease in vandalism acts
Everything has been planned to make the maintenance of these installations buried in the ground easier. Connected to the city manholes, they self-clean "but usually city services clean them once a week." Dutch cities benefit from a small bonus as their Urilift toilets are inspected with a fine-tooth comb once a month by the company itself.
The unitary cost, from 25,000 Euros for a urinal, is soon made beneficial according to Wim Hermans: "vandalism on our toilets costs in average less than 100 Euros per unit per year, which is very little for that type of product."
Up to 125 uses per hour
The first Urilift urinals were installed in 2002 in The Netherlands. Now, in addition to the fact of being the only one on that market, the company can boast about having installed 125 toilets in 70 different cities in many European countries, among which Denmark, The Netherlands, England, Belgium and Switzerland. Not necessarily countries where everyday incivilities are the most blatant… Wim Hermans does not deny this success: "Half of the time, when a city has tested Urilift urinals, it buys them again next year. This gives you an idea of the degree of satisfaction." As for the number of uses, some of the toilets are used only during weekends, others every night of the week and "up to 125 persons can use them within an hour," Wim Hermans adds with a mathermatical precision. Party-men will not even have to clear up their minds anymore to avoid aiming at the lavatory seat in unisex toilets. Let us wager that they will appreciate this little advantage.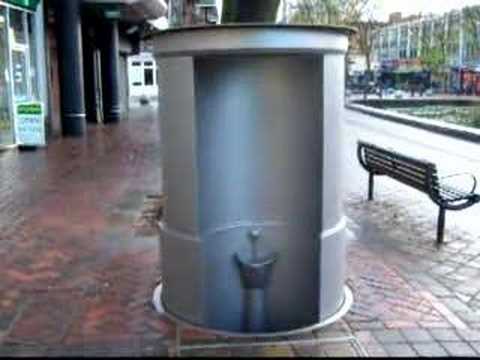 To know more about the innovation presented in this article, please contact us at the following address:contact@innovcity.com
Translated by Oona Bijasson