Quick read

The new means of transport in Amsterdam is rather cool. The first sky blue amphibious bus "Floating Dutchman", by the Dutch company Boat tour company Lovers, was inaugurated on July 8th.
This bus, which can be driven on the road and literally dive into the town centre canals, is an original initiative aiming at offering transit passengers at Schiphol airport to discover the city within a short length of time while enjoying Amsterdam's characteristic: the numerous canals crisscrossing its streets. The service is targeting transit passengers who wish to make the most of their Dutch stop. Three tours a day will probably not be enough since one million transit passengers have to wait over four hours in the airport before boarding their plane each year.
A 2 hour and 45 minute speed visit
Though the major part of the tour between the airport and Amsterdam's city centre is by road, the cruise lasts 45 minutes. The route passes by various places of interest before the bus gets back to its homeport in the airport.
This transparent-roofed electric bus can seat 48 persons and is powered by 198 batteries recharging while it is on the road, The Independent indicates. Passengers eager to discover the city will have to pay 39 Euros to enjoy this invigorating express tour.
Though other cities already provide this type of tour, it seems that Amsterdam is the first city for which a vehicle has been specifically designed. In 2010, the attempt to operate an amphibious bus in Glasgow was a failure.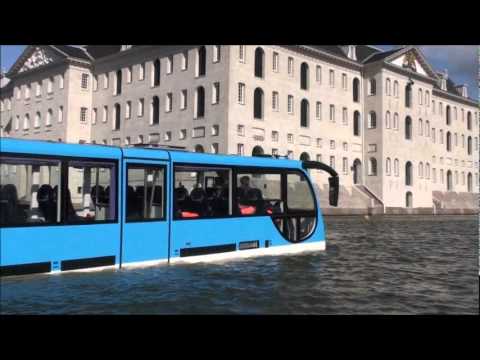 Photo credits: Greater Amsterdam